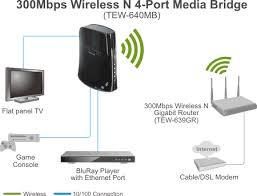 If your entertainment system is anything like mine, at least one of your devices can be networked. We have a Samsung LED TV with built in wireless, but we also have an older XBOX, a DirecTV HR34-700 receiver, and our Pioneer 1021K receiver. The last three devices only have ethernet network support by default, and there is no easy way to get a network cable to their location. You could spend upward of $75 just to add wireless support to one of these devices, but ideally it makes sense to plug all these devices into a wireless bridge that connects to your home's Internet router. We have Uverse and DSL at our house, and I found it difficult to find an inexpensive wireless bridge solution that would play nice with our 2Wire 3600HGV. After digging further, I found a great solution to connect all three devices to my router via a wireless bridge, and it cost me only $20. If you are looking for a similar solution, you found the right article.
An ordinary WLAN router that's been turned into a super router
Where do I start?
There are certainly inexpensive wireless bridges out there
like these found on Amazon
. But be careful, some of these won't be compatible with your router, and others require you buy a pair of devices – one that plugs into your router via ethernet cable and the other you plug your devices into. That's a lot of configuration headache, my approach requires you only buy one device and I can confirm it works with our Uverse 2Wire 3600 router.
The solution:
Purchase an inexpensive WLAN (wireless) router that supports
DD-WRT
...
Read More