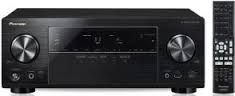 Product:
Pioneer VSX 1021 receiver
Reviewed by:
Chris Thompson
,
Summary:
Lots of features, HDMI switching and tweaking, iPad/iPhone/iPod control over the network and wiring adapter included, Bluetooth optional
Details:
If you can get this receiver for a good price, it's well worth it. Might be overkill or a lot to learn at first.
Rating:
4
of 5
The Pioneer VSX 1021 K
. It's got a lot of technology built in, and a lot of functionality – but is it worth the $550 price tag? Let's start peeling back the layers and find out.
First, our original VSX 1201 k was giving us a UE 33 error. We purchased from NewEgg using a coupon code from SlickDeals.net. The final price was good, but this was my first return to NewEgg so I wasn't sure what to expect. My return was approved immediately and an RMA code was issued online automatically. Shipping to me both times was free, but I had to foot the return bill of roughly $18 to send it back. It was well worth it because the replacement model works fine and doesn't show the UE33 error. This seems to be the only way to fix the UE33 error, because when I contacted Pioneer support, they indicated it would need professional service. The old receiver was also never keeping updates, whether I updated by USB or network connection. The replacement model already had the newest firmware installed, another good sign we could trust this replacement.
The only solution I found to the UE33 error was to return the unit for a replacement. Now almost a year later, I've had no issues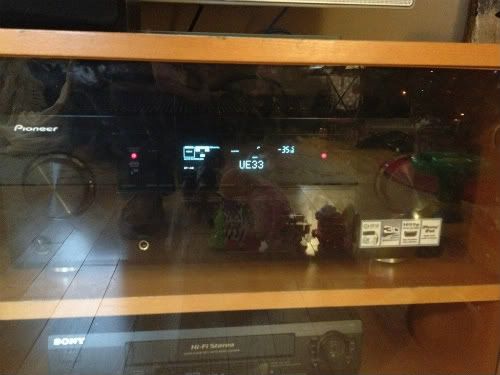 Installation and setup of the VSX 1021 K
We have a small living room with a standard 5.1 speaker setup. My speakers are decent but definitely not what you'd consider premium. The sub-woofer is a plug in Kenwood 10″. One nice feature of the Pioneer is it automatically can calibrate itself with a microphone it comes with. The procedure takes about ten minutes and is satisfying to listen to. I can't really detect the subtle timing improvements but it seems cool nonetheless.
iPhone/iPad/iPod support
We also managed to get the iPad working with the Pioneer VSX-1021-K 7.1 easily, both over USB to share music, and over the network to actually control the Pioneer. The apps are pretty cool and there's way more sound tweaking capability than I'll ever need.
We did notice at least once that the Pioneer wasn't available over the network (we had it wired in) so if you like using the apps, be prepared that connecting might be flaky. Since initial testing this has not been a significant issue.
Next page >>