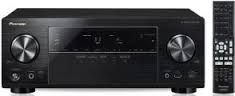 Pioneer VSX 1021-K receiver has choppy sound on a few Uverse stations

The Motorola Uverse DVR works fine with the Pioneer, with the exception of several stations that exhibit a crackling sound problem. It's not an issue on our Sony DVD player at all, just some channels on the UVerse. It would probably be enough to make me pass entirely, however we're planning on switching to DirecTV pretty soon so I think that will solve that sound problem. *Update* Turning Surround Sound off (to Stereo only mode) on your Uverse system fixes this problem. Another annoyance is the unit comes with demo mode active and you can only turn it off using Apple apps, not with the unit's remote or on the unit itself. Something that will probably bug some buyers without Apple devices or network access to the Pioneer.

Playing movies and music from your iPhone is pretty straightforward, once connected by the supplied iPod connector. You don't have any navigation ability on the iPhone while music is playing, it's all managed through the Pioneer remote. You can play YouTube audio through the interface but I can't seem to get video to work. Also, I have to select another input and come back to iPhone/iPod to get the next YouTube video to play sound, it's a bit flaky if you ask me.



Overall, I'm glad we gave the VSX 1021-K a second chance after the first defective unit was sent back. It still has a couple quirks like the choppy audio (which has a work around listed above), but overall the quality seems solid. I go into reviewing the optional Bluetooth adapter on the next page if you're interested in adding that on for about $80 – $90. If you can get the VSX 1201-K at the reduced price I've seen it at, I definitely recommend you pick it up. If you have any comments or questions – feel free to post them below. Also, if you found this review helpful, please like or Google + to share with your network.
Next page >>