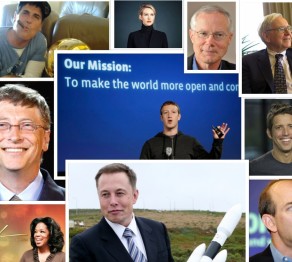 The elite, short list of world billionaires. Such an exclusive club, as of this publishing there were less than 1,600 members in a world of over 7 billion souls. Billionaires are interesting because they are scarce and live a lifestyle they can afford to cloak in mystery. The billionaires that interest me most are the self made billionaires. They are smart, but not necessarily in the highest IQ tiers. So if it isn't smarts, what is it that has enabled self made billionaires to bend reality to their will? I will dive further into this subject and talk a little about why each member makes the cut. This list may change with time, but as of today, here are my choices for Chris' top 10 billionaires list.
Chris' Top 10 Billionaires list:
10. Scott Cook
Scott Cook
started at P&G and
Bain
, but ultimately made his $1B+ fortune creating
Intuit
. Scott was not only a great entrepreneur starting Intuit, he's known for smoothly transitioning himself out of the CEO role. His decision ultimately helped
Intuit
reach $4B+ in annual revenues as of 2015. But why is Scott so special to me? Because he's the only billionaire I get to chat with when I go to the annual Intuit Christmas party. I have my wife to thank for that.
9. Warren Buffett
You have to admire
Warren Buffett
's patience and humility. He is the pioneer at sniffing out the best investments based on future value and opportunities. His strategy also happens to be extremely tax efficient which is key to long term growth. He has a great sense of humor and delivery, and the guy is so humble, he still lives in a modest house in Omaha, Nebraska which he paid off years ago. In my mind, Buffett's greatest accomplishment of all is leading other billionaires down the righteous path of donating at least 50% of their fortune to charities over their lifetime. So for his contributions to philanthropy, here's to the Oracle of Omaha!
8. TIE Sara Blakely
If you don't know Sara Blakely, she's the one behind the
Spanx
trend. I learned all about her story on the podcast –
How I built this
. You immediately get a sense of her passion, business sense, and scrappiness; all which made her idea succeed. Her product was completely new and not one you market traditionally, but her grit overcame the early stages until finally stores couldn't keep her product in stock. Another thing I love about Sara's business is it's private, she took all the risk and currently has full control of her Spanx empire. Sara's positivity and bubbliness can't help but spill over in interviews and she ties for the #8 spot.
8. TIE Kylie Jenner
On the other hand, Kylie Jenner had the reverse fortune of Sara. Instead of a killer product, her household name was well positioned to take advantage of her followers. When it came time to start a company, she already had all the demand a business could want, she just needed a product to sell. Enter
Kylie Cosmetics
and the rest if history. Kylie is now the youngest
self made billionaire
ever. What about haters who say she came from wealth and should be considered a self made billionaire? Well, she did come from wealth but she's still a self made billionaire. If you disagree, talk to some of her competitors like Beautylish or Sephora and ask just how much market share Kylie Cosmetics has taken from them. Kylie's billion dollar business has another great advantage – it's private and has less than 10 employees! With that kind of efficiency, it's easy to share profits with your team. Nice work Kylie and Sara, you are both a force to be reckoned with.
Previously I had selected Elizabeth Holmes for the #8 spot. But after learning about her failed company, constant lies and sociopathic tendencies, I thought Sara and Kylie were much better for this list.

7. Nick Woodman
Nick Woodman
is another recent self made billionaire who brought us the company GoPro. His story and lifestyle are inspirational to me. I read that Nick would wear a
Camelbak
while working a power flow session at his desk, just to avoid the time suck of getting up and fetching water. And what a cool story about
GoPro
. After his first company funbug dies, Nick creates the prototype GoPro camera and takes it on a surfing hiatus. Seeing the potential, he sinks everything he has into the company and has grown revenue to $1 billion (Nick's net worth is currently over $4 billion). My favorite thing about Nick? His megawatter smile that can't help but draw you in. Anyone can see why success is attracted to this shining star.
6. Mark Cuban
Mark Cuban
might be the most outgoing billionaire on this list. He's confident, and isn't afraid to take the path of controversy. He is also not one to censor his thoughts, like the time he said,
"I'm more concerned the government will fuck it up,"
when asked about government regulation of the Internet. Mark was known for hustling in highschool and college, working several jobs and starting multiple ventures. But it was starting MicroSolutions and Broadcast.com that truely brought him to the billionaire club. Mark's take on the biggest problem being a billionaire? That one day
it has to end
.
5. Elon Musk
Elon Musk
might not be the richest billionaire, but I'd argue he's the coolest. Elon showed his capability early on, teaching himself to code and selling his first piece of software at age 12 (it was a game called Blaster). After college and becoming a US citizen, he started Zip2. After 4 short years, he sold it to Compaq, netting himself $22 million in the process. Next in 1999 came a little venture called PayPal, which was sold to eBay in 2002 and put $160 million in Musk's pocket. Since then, Musk has gone on to build rockets at SpaceX and electric vehicles at Tesla, both companies he had early roots in. One of the coolest things about Musk is he
partially inspired the background story of Tony Stark
, better known as Iron Man. When I think about role models for my son Bradley, Elon Musk is the first to come to mind.
4. Jeff Bezos
Jeff Bezos
is a true visionary and entrepreneur. Like all of the billionaires on my list, he showed potential early on by trying to disassemble his crib, working on windmills, and later as high school valedictorian. He later graduated Summa Cum Laude from Princeton with two engineering degrees. He worked on Wall Street for 8 years and in 1994 drove to Washington to start Amazon.com, where he continues to make his billions revolutionizing retail, on demand video, hosting, and of course books. Bezos has an impressive history of recognition: as the Time person of the year for 1999, named the Forbes business person of the year for 2012, and in 2008 US News and World Report acknowledged Bezos as the one of America's best leaders. At $30 billion, Jeff breaks into the top 25 richest individuals in the world. I wouldn't be surprised if Bezos is in the top 10 in the next few years.
3. Oprah Winfrey
Oprah Winfrey
is a savvy business woman, actor, author, and producer. I can't begin to imagine the challenges she had to overcome to get where she is. But when you combine excellence and a steady work ethic over time, great things can be accomplished. Oprah was born into poverty and had a tough childhood by many accounts. But once Oprah got her foothold, she was able to take her show national, and then really used her leverage and make more opportunities for herself. Once she started producing and created her
OWN
network, there was no stopping her. Not only is she America's richest African American (surpassing Bill Cosby), she's also America's richest female (but watch out for Elisabeth Holmes). For your hard work you deserve it Oprah, well done!
2. Bill Gates
Bill Gates
is an amazing entrepreneur and business man. He has a photographic memory, coupled with a voracious appetite for knowledge, coupled with a mind for business. He took an early interest in software and scored a 1590 out of 1600 on the SATs. He was a National Merit Scholar and enrolled at Harvard in 1973. By 1976 he had dropped out of Harvard and started Microsoft with Paul Allen. As you might know, Microsoft went on to create BASIC, MS-DOS, and Windows which made Gates a multi billionaire. In 1999 he actually was worth over $100 billion making him a "centibillionaire". Some of that wealth he's donated to his charity, the
Bill and Melinda Gates foundation
, which earned Bill, Bono, and Melinda the Time "person of the year" cover in 2005. As of 2013, Bill had donated $28 billion of his personal wealth to charity. If you ever get the chance, go back and watch
these videos
of Steve Jobs and Bill Gates. They are some of my favorites, and really show how well Bill understood the software market and why Microsoft was wildly successful.
1. Mark Zuckerberg
Mark Zuckerberg
, in my opinion, is the ultimate billionaire. He might be the most recognized name on the list as nearly everyone knows about Facebook and Mark's rise to fame. And despite his new found, wide spread influence, he is remarkably real and down to earth. Unlike
Aaron Levie
who has less than 5% equity in Box.com, Mark stood firm and kept his stake in Facebook despite the lure of early cash. Mark was also a child prodigy, scoring 1590 out of 1600 on his SATs and getting into Harvard before dropping out to start Facebook. Mark is also one of the most beloved CEOs on the planet, with a 99% approval rating (this
Quora answer
succinctly answers why Mark is so good). Congrats Mark Zuckerberg!
Honorable mentions:
Larry Ellison