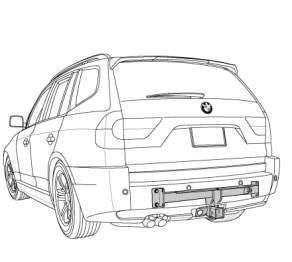 The family and I recently purchased a 1999 Coleman pop up tent trailer, and I've been itching to do some trailering ever since. The BMW X3 can easily pull the trailer, I had no problem doing 65 MPH+ up the Altamont pass on the first trip out, but you definitely feel the extra weight when braking. Even though the trailer weighs less than 2,000 lbs., it comes with electric brakes that engage automatically when you depress the brake pedal in the car. To make those or any electric trailer brakes work, you need a brake controller as well as the 7 pin trailer harness connector. I had already installed the hitch and the 4 pin connector, now I needed to get the full 7 pin trailer lights for my BMW X3 and brake controller if I wanted the proper trailer solution.
BMW X3 E83 Hitch Install and Basic 4 Wire Plug
I already had the hitch and 4 wire plug installed by Road and Rack so I can't say much about this. If I had to do it again, I'd get the OEM BMW trailering kit which is reasonably priced – under $400 on eBay. This gets you the 2″ hitch receiver which is essential for pulling a trailer, plus you get the 7 wire and 4 wire plugs included. At this point, you still need a brake controller like the one I bought
to control how much the trailer brakes engage, otherwise they slam on at full power when you tap the brake pedal. More on that further along, but click here if you need instructions on how to install the OEM trailer hitch and 7 pin wire harness. If you need more help and photos, click here to see another install that came out nice.
Next page with more information about adding the 7 pin connector >>
Here's how it looks when it's all done

Next page with more information about adding the 7 pin connector >>