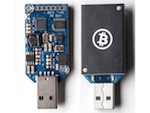 Bitcoin is a cryptocurrency which can be used for payment of goods and services. Part of the reason Bitcoin exists, is due to the voluntary computer systems out on the Internet running the program that supports the Bitcoin network. These voluntary computer systems are often called "miners" in the Bitcoin community. Miners do the calculations to ensure payments are only able to be spent once, and they update the master ledger or "block record" with transaction data. There is also a slim chance these miners can get free Bitcoins – which is the motivation to join and support the network.
The History of mining Bitcoins
In the beginning, computer CPUs powered the Bitcoin network...
Read More