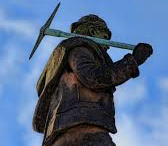 I noticed a few page views of my other Bitcoin mining article, so I thought I'd do a follow up this week. I'll talk about how to mine for Bitcoins on Windows and how to configure a mining rig with more than one device. Currently I have a 2 USB ASIC block erupter
configuration mining for the BTC Guild (now closed). Below I'll talk more about my performance and approximate BTC earn rate.
Previously I had a single USB ASIC block erupter
mining off my work MacBook Pro laptop, but I couldn't mine 24/7 and was wasting time constantly starting and stopping my mining rig. I decided to get a second USB ASIC block erupter
and setup a permanent mining rig.


Read More