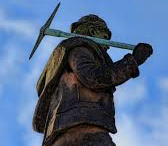 Next, I used BFGminer to run my Bitcoin mining rig. When you research Bitcoin mining, you will see a lot of old programs like GUIminer. These are old and a waste of your time, BFGminer is stable and does everything you need it to do. Don't be afraid that it's command line based – download and get the files into a folder, then start the Windows command line, change directory (cd) to where you placed BFGminer and type BFGminer. The program will ask you to provide parameters, you can get all this from your mining guild. My mining server can be found on BTC's guild page, under pool stats. Once BFGminer starts, you'll need to press "M" to manage devices and then use "+" to add "all" devices.

That's all it took, BFGminer should start automatically and you should see a device instance for each USB block erupter in your rig. I get a solid 667 M/s hash rate with my setup, I have the USB ASIC block erupters
separated a bit on the hub, and I have passive heat sinks on the USB ASIC block erupters as shown; I believe some sort of cooling is necessary if you want to mine full time indefinitely. Put your laptop in a place it and your devices won't get disturbed. You don't need to worry much about going to your terminal once you start mining, you can always go to your guild's page and see when your last accept was if you're worried your rig went down. There will also be handy graphs if you mine with BTC or a comparable guild. Don't mine over a wireless network, otherwise known as WiFi. WiFi is great but not as reliable as a network cable when you need 24/7/365 constant connectivity. I actually deactivated the wireless once everything was setup. Also, I installed
TightVNC
so I could remote into my mining rig to check on things. But again, once you get a dedicated rig running, you should let it run and don't disturb it. My Bitcoin mining rig is running for weeks now without a restart or even restarting BFGminer.
One last bit of advice I can give is mining Bitcoin is like watching a pot of water boil. Right now at 667M/s it takes me about 8-10 days to make 0.01 BTC. I was pleased that when I withdrew my 0.01 BTC (0.01 is the minimum withdrawal amount for BTC), there was no fee taken out. I have been using Blockchain to manage my Bitcoins and I recommend it. It has a nice pairing function to pair your Android or iOS device. You can chose to be frugal with mining fees with a tradeoff in longer confirmations which is something I like. With Bitcoins trading for roughly $200 each on Mt. Gox, that 0.01 BTC, or $2 every 7-10 days, just may add up one day.

– Or –
Take me to the next section –>