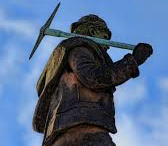 I noticed a few page views of my other Bitcoin mining article, so I thought I'd do a follow up this week. I'll talk about how to mine for Bitcoins on Windows and how to configure a mining rig with more than one device. Currently I have a 2 USB ASIC block erupter
configuration mining for the BTC Guild (now closed). Below I'll talk more about my performance and approximate BTC earn rate.
Previously I had a single USB ASIC block erupter
mining off my work MacBook Pro laptop, but I couldn't mine 24/7 and was wasting time constantly starting and stopping my mining rig. I decided to get a second USB ASIC block erupter
and setup a permanent mining rig.


I found an old Dell Latitude work laptop and reloaded Windows XP on it. You need to load a special USB to serial driver for Windows to see your device(s), you can download that
here
or if you have Windows 2000
here
. Make sure in your Device Management view you don't have any USB or serial hardware issue showing. I noticed I could plug only 1 USB ASIC block erupter directly into the laptop, if I tried plugging in the second, there wasn't a COM port available to assign. This may or may not be an issue for you, but when I plugged the powered USB hub into the laptop and then the USB ASIC block erupters
into the USB hub, everything worked fine. You can even see in the Device manager each card gets its own set of resources.
You can now buy 2 USB ASIC block erupters and have change leftover compared to what I spent just 3 weeks ago